Fab Twins, The (England)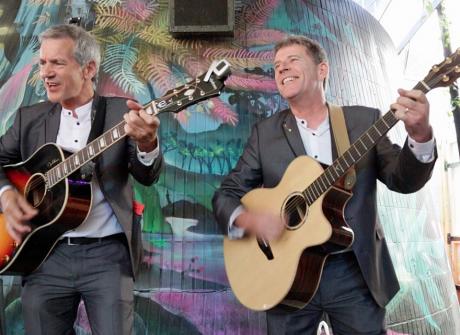 An acoustic vocal harmony duo from Bristol, delighted to be back to play at their second International Beatleweek, after previously playing at iconic Liverpool venues such as the Casbah and the Jacaranda.
Stace and Jon are also regular attendees at fan and tribute events like Beatles Day in London, Beat at Tencreek sixties festival in Cornwall, and Beatles Day in Mons Belgium, where the organisers commented that they had never previously heard "Honey Pie" on ukulele, kazoo and megaphone! On a chilly day in January this year they played outside 3 Savile Row in London to a large gathering commemorating the 50thanniversary of the Beatles final gig on the rooftop. As well as CBC News this was filmed for the Beatles fan film "Here There and Everywhere", which may be released by the time you read this!
Not actually twins (although people often ask!) they have a close and pleasing vocal blend like siblings, which suits material by the likes of the Everly Brothers and the Crickets that so inspired the fab four , as well as classics from Simon and Garfunkel and Crosby Stills and Nash that are regular favourites at their gigs.
Expect some very early cover versions from the Beatles BBC session days as well as album tracks, B sides and million sellers, slow ballads and punchier rockers. What you see and hear with the Fab Twins is two guys showing their deep love for the music of the greatest band of all time and creating a pleasing and harmonious take on it. Twins? No. Fab? They are far too modest to comment…!
Back to bands