Estefy Lennon Band (Argentina)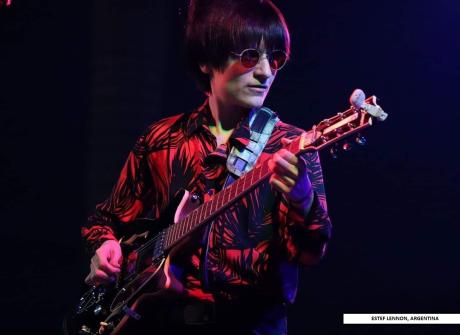 Estefy Lennon: The only female John Lennon tribute in the world!
Estef Figueroa, known as 'Estefy lennon or Estef lennon' was born in Argentina in 1987. She discovered the fab four through her parents, when she asked about the meaning of the name 'Beatles'.  She fell in love with john Lennon instantly.
Some years later, someone listened to her singing Help! in a karaoke bar, and told her, '"You are our Lennon, our Estefy Lennon, you sing like him…". so that's how her tribute began.
She plays almost every weekend in the Buenos Aires scene, especially at our officially endorsed Cavern Club, where she also helps judge the annual Beatle Week competition; she's appeared on several Argentinian prime time tv & radio shows as well as some international appearances, leading to a large social media following. 
Estefy Lennon Band is the only female John Lennon tribute in South America, if not the world.
In 2016 she recorded the album '1981' with Lennon's unpublished songs, like India and Life Begins at 40, which were played on radio stations around the world.
Estefy has been involved at International Beatleweek in 2015, 2018 and online in 2020, and has gained famous fans in Julia Baird, May Pang, Bob Gruen among others, and feels honoured to have their seal of approval.
Back to lineup