Eggmen, The (Canada)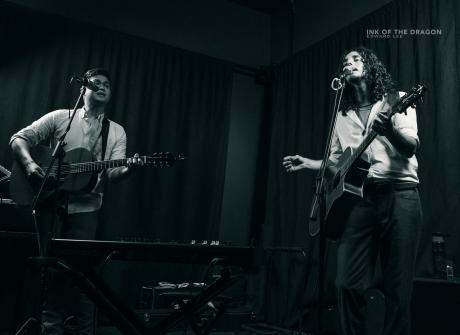 The Eggmen are an entertaining and energetic acoustic duo from Nanaimo, British Columbia. Although they make no attempt to look or sound like the originals, they enjoy playing songs from The Beatles' entire career, arranged for two guitars, two vocals and the occasional piano, and try to keep an authentic and faithful sound to their interpretations.
Both experienced musicians, the pair came together after jamming one night and realising they shared a love of all things fab four and decided to make it a more serious venture. It wasn't long before Grant and Paul were performing regularly with their takes on Twist and Shout, I Am The Walrus, Something, Let It Be and many more. Their love of The Beatles comes out in their performances, which are filled with genuine appreciation for the songs. With just two guitars, a paino and two voices, The Eggmen play authentic renditions with a fun, high-energy style; having as much fun performing as their audiences have listening, The Eggmen just wish to do what The Beatles have done: spread love!
The Eggmen have been going for a number of years now but have a very low key presence online with most of their gigs coming through word of mouth, from show to show, having performed many gigs, social functions, festivals and corporate events, the band still don't have a website or any social media so you'll need to see them to believe them.
Back to bands