Slick, Earl (Guest)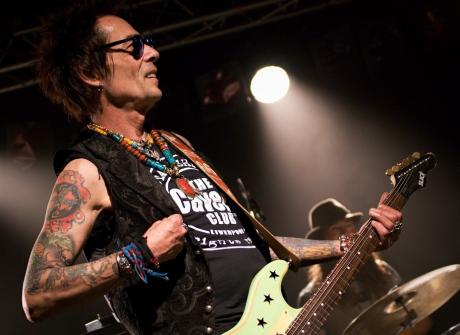 Delighted to welcome Earl Slick back to International Beatleweek for what will be one of the highlights of this year's festival.
As a guitarist, Earl is best known for his collaborations with David Bowie, John Lennon, Yoko Ono, and Robert Smith. He has also worked with other artists including John Waite, Tim Curry, and David Coverdale, in addition to releasing several solo recordings. Slick was initially hired by David Bowie to replace Mick Ronson as lead guitarist for the Diamond Dogs tour in 1974.
It is his work with John and Yoko that brings him back to our festival. He was recruited by them to play on the sessions that became Double Fantasy in 1980. During these sessions, the material for 1984's Milk and Honey was recorded as well. Slick also joined Yoko in the studio for her solo album, Season of Glass. As Earl recalls 'My manager got a call from Jack Douglas about working with this guy he was producing, but he didn't tell us who it was right away. So, we found out that it was Lennon. We went in the studio, and we cut a lot of stuff.  It was a great experience because, like Bowie, he didn't dictate what to do. He would give you a shell and say, 'Go in this direction,' and then he let you go".
Back to lineup