Dios Salva a la Reina (Argentina)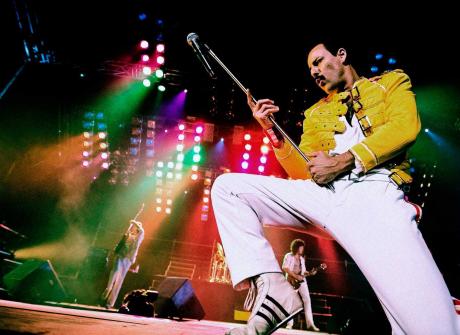 A Queen band at Beatleweek? Let me tell you a story…. Dave Jones visited The Cavern Buenos Aires as the chief judge for the South American Beatles Festival, the winner of the competition being awarded an all expenses trip to Liverpool to play Beatleweek.
Dave was more than a little hesitant to admit to me (Bill) that the winner was a Queen band, but he asked me to take into account that he was a little tipsy at the time. My initial furore immediately dissipated upon seeing that band live at The Mathew Street Festival and quickly acknowledged that Dios were simply the greatest tribute band of any genre I had ever seen, an accolade  I was happy to reiterate in person to the bands home crowd in Rosario at a big gig in December 2017. They are amazing and I should know I was at Live Aid in 1985. It is simply as good as seeing the real thing (not "you to me are everything") 
Long time Beatleweekers will be queuing to see them. Do NOT miss them. At my re-union eighteen months ago, they eagerly accepted my invitation back to Liverpool their favourite place to play in the world. They decided after winning their initial trip and wowing a 25,000 in Liverpool, to make music their full-time vocation and each gave up their day jobs. Was it worth it? Absolutely! The band have just finished their annual Spanish tour, are flying in for 36 hours to play for you before flying out to their next tour in Mexico. Hugely successful worldwide icons.  
Our very own 'Fab Cuatro'  
Welcome home Franciso, Matias, Ezequiel and Pablo!! 
Back to bands