Dea Matrona (Northern Ireland)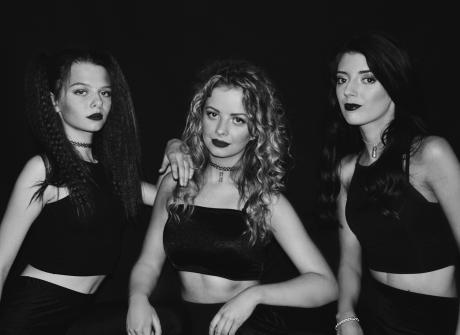 Teenagers Orlaith Forsythe (Guitar/Bass) and Mollie McGinn (Guitar/Bass), both multi-instrumentalists, met in school and started playing together after they decided that busking would be a happier alternative than getting a part time job.
After a year of playing around Belfast they were joined by drummer Mamie McGinn and since then the group have progressed into a proper band, going viral with their video of Day Tripper. Since then they have played the Main Stage at Belfast Culture Night, had a couple of prominent support slots (Flash Harry and Nathan Carter) and put on their own headline show in The Strand Art's Centre.
Showcasing their interpretations of old classics by bands such as The Beatles, Fleetwood Mac and Led Zeppelin, they also proved their capabilities of writing and performing their own material releasing their debut EP 'Chains' last year and being praised for their 'soaring harmonies and originality' with Lynette Fay saying, 'They are two seventeen year old superstars in my humble opinion, definitely a duo to keep an eye and an ear out for in the future.' Their single 'Wilderness' received a ton of AirPlay and was played on BBC Across The Line, BBC Radio Ulster, u105 and Cool FM to name a few. It was also selected as RTE Radio 2fm's track of the day and was picked for the RTE Radio 1 playlist. Johnny Hero of u105 said of the girls; 'The best new act I've heard in years.'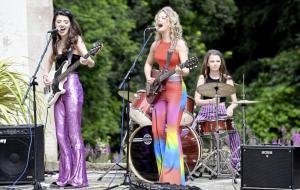 Dea Matrona have played at festivals such as the Soma Festival, Ard's International Guitar Festival, Rathlin Sound Maritime Festival, Antrim Live Festival, Culture Night, Sunflowerfest, HMS Caroline's Beer & Cider Fest, Hilden Beer Fest, Lantern Fest, Féile an Phobail, Belfast Guitar Fest and HMS Caroline's Beer and Cider Fest. They have played in many pubs to include The Harp Bar, The Duke Of York, The Pavilion, The Brass Monkey and The Errigle to name a few. They have played gigs in St Georges Market, The Belfast Barge, The Europa Hotel, The Belfast Empire, Queen's Hall and The Waterfront Hall. The girls also took their live show over to London this year as part of the Busk In London Competition where they were the only Irish act to qualify for the finals out of over 1000 applicants.
Dea Matrona have just released their debut single 'Just Wanna Rock,' and have plenty of releases planned for the future.
Back to bands