Coustics, The (England)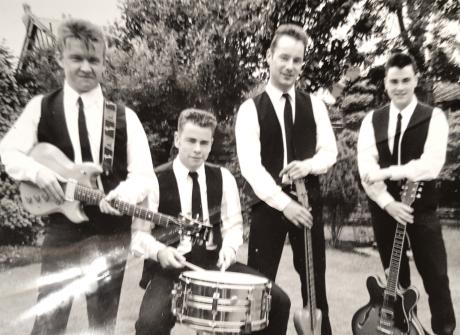 The Coustics came into being after founding members Liam Mckenzie and Nick Corcoran visited their first Beatles convention back in 1987. Their love for the Beatles' music sent them back home to Blackpool to form The Coustics, which they did with fellow friends Pat Shaw and Chris Cadley. Lots of rehearsal and hard work soon found them gigging all over the North West and into Germany and Belgium.
In 1988 Liam and Nick returned to the convention and cheekily asked Billy for a gig that night. Billy obliged not knowing Pat and Chris were actually back in Blackpool and had to get over asap to play that night. They played the after party down at the bar in the Adelphi Hotel and went down a storm. They were invited back year after year, eventually headlining the convention.
During the early 1990s they came to the attention of John McNally of The Searchers and eventually The Coustics became Billy J Kramer' backing band for 4 years playing three sold out tours of the UK along with Gerry and the Pacemakers at venues such as London Palladium and the Liverpool Empire.
Over the years Liam and Nick have written and recorded their own songs and albums including the critically acclaimed 'Long Story Short.'  Their new album 'About Time' is due out this autumn 2022.
The Coustics are a 5 piece line up these days, still based in Blackpool but Liam and Nick will return to the festival this year as a duo to perform an acoustic set at the Cavern Club on Tuesday.
"As a band we owe a lot to Billy, Dave and the Beatles Conventions, who helped form who we are as a band and musicians. Forever grateful. Getting back to where we once belonged."
Back to lineup