Clube Big Beatles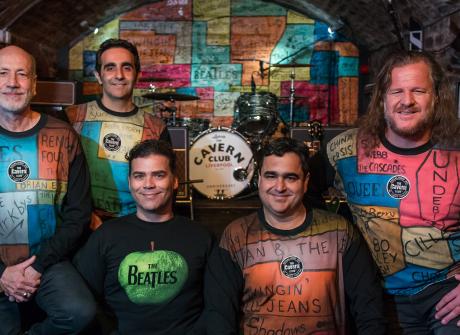 We could come to the conclusion that if you've never seen a show by Clube Big Beatles, the Brazilian band inducted into the International Beatleweek Hall of Fame in 2008, this is likely your first time at the Beatles Festival in Liverpool.
That's because this is the 24th consecutive year for Clube Big Beatles at International Beatleweek, where they've played almost 300 times, including 62 gigs at The Cavern Club!
Everyone knows the vigour and energy that these guys bring on a stage. So much so that hundreds of admirers always follow the movements of Clube Big Beatles at International Beatleweek.
This year, we'll be playing the full White Album for the fifth time in Liverpool (after all, we're celebrating 50 years of this emblematic Beatles double disc). It's going to be a very special moment. We would also like to inform you that, among so many incredible Clube Big Beatles moments we've had in Liverpool in the last 24 years, we will have the famous "NA" cards during the performance of Hey Jude.
This interaction with the audience, with the cards held up during the classic song, was created and developed by Clube Big Beatles exclusively for their performances at International Beatleweek. We've been doing it for over 20 years, and influenced many people.
We can see on the internet that the Clube Big Beatles "NA" cards, introduced at International Beatleweek, have taken over the world. In hundreds of shows in dozens of countries, we can see that what was started in Liverpool by Clube Big Beatles is reproduced with much excitement.
Now in  2018, with Hey Jude celebrating 50 years, we are absolutely certain that the "NA" cards will be raised again, and all will sing the refrain louder than ever at Clube Big Beatles shows during International Beatleweek. So, only one thing left to say: have fun and get excited at Clube Big Beatles performances!
Back to bands