Cavern Club Beatles, The (Liverpool)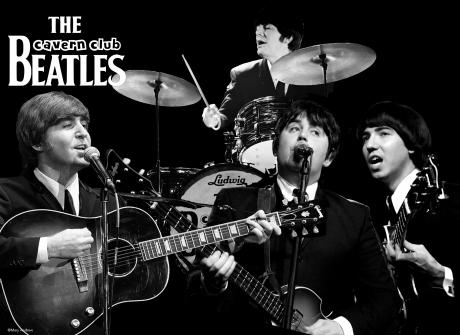 The Cavern Club Beatles are The Cavern's resident tribute band, who play every Friday and Saturday in the Live Lounge!
Formed in Liverpool in 2011, these Northern lads, replicate perfectly both the look and sound of the fab four. Their attention to detail, musically and creatively is second to none. The band was cast after extensive auditions "with a little help from" legendary Beatles recording engineer, the late, great Geoff Emerick.
As the officially Cavern endorsed Beatle band, they play their "all-era" theatre style show every Saturday in the Cavern Live Lounge as well a more relaxed show on certain Fridays throughout the year.
The Cavern Club Beatles are Tony Coburn (Paul McCartney), Adam Hastings (John Lennon), Paul Jones (George Harrison) and Chris Sharrock (Ringo Starr).
Between them they have already notched up an impressive biography – touring the world extensively as well as shows on London's West End, Broadway, and played The Royal Albert Hall. In February 2014 the band celebrated the 50th Anniversary of the Beatles' first steps on American soil and their first appearance on the Ed Sullivan show. Over a two – week period they played throughout New York and Florida in conjunction with The City Of Liverpool, Hard Rock Cafe, British Airways and Visit Britain. In 2015 the band were invited to celebrate the 50th Anniversary of the filming of the Beatles' second film, Help!, in Obertauen, Austria. They performed in Obertauen as well as sold out shows in Vienna. In June of 2016, the band headlined International Beatleweek, performed solo George and Paul shows, as well as a special show to Revolver.
This year they will be performing at The Philharmonic Hall on Saturday night along with Pepperland.
Back to lineup