Casey, Howie (Liverpool)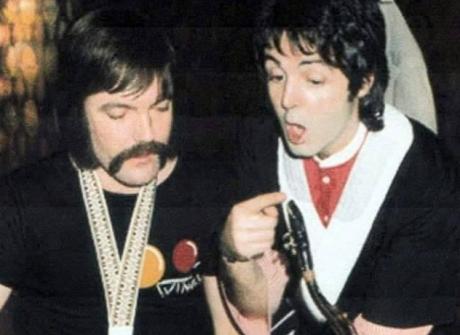 Howie Casey played Saxophone on several Band on the Run tracks and went on to tour with Paul McCartney and Wings as well as appearing on subsequent albums Wings at the Speed of Sound and Back to the Egg.
Originally from Liverpool, Howie has lived in Bournemouth since 1979 but was one of the first local rock 'n' rollers, and his band, The Seniors, paved the way for many local acts, including The Beatles, when they became the first Liverpool band to be invited to play in Hamburg by Kaiserkeller owner Bruno Koschmider.
Learning Saxophone in his teenage years, Howie did his military service in the The King's Regiment Military Band for three years before discovering Rock 'n' Roll through the likes of Little Richard and Fats Domino, playing in local groups before forming his own band, The Seniors. With lead singer Derry Wilkie, Derry and The Seniors played on the same bill as Gene Vincent in May 1960 before auditioning for to be Billy Fury's backing band. The audition for "beat-svengali" Larry Parnes resulted in a gig in London at the 2is Coffee Bar in Soho, where they met Bruno Koschmider. After a name change, Howie Casey and The Seniors became the first Liverpool Beat Group to get a record deal when they signed to Fontana in 1961.
Howie went back and forth between England and Germany over the next few years performing with Kingsize Taylor, Chuck Berry, Carl Perkins and Alex Harvey. By the early 70s, Howie was doing more session work and appeared on the T-Rex album Tanx before being recommended to Paul McCartney by producer Toni Visconti going on to be part of that historic era of Wings as they toured America and the World with their Rockshow!
Howie went on to work with The Who, Mott The Hoople, Ringo Starr, Denny Laine, Cliff Richard and many more. He's been involved in many International Beatleweeks at dedicated Paul McCartney shows as well playing with his own tribute band The Beatles with Wings.
It's great to invite Howie back home and this year he will also be a special guest, being interviewed in the Ballroom on Sunday at the convention.
Back to lineup