Calangles, The (Brazil)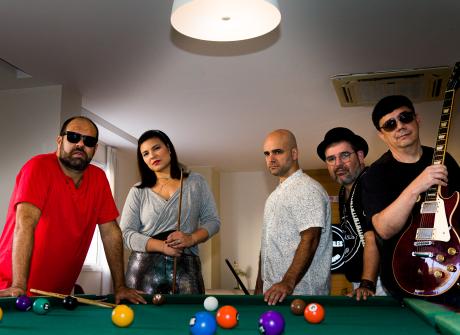 It's been five years since The Calangles Rock Band were last part of the line-up of International Beatleweek but they have been very busy are a pure and real rock 'n' roll band for many reasons. However, the one that catches attention is that these guys play it LOUD! Hugely influenced by The Beatles, the members of the group bring a touch of hard rock to the Fab Four's songs through their talent and hard hitting ethos; incorporating a variety of rock music genres, the band transcends the usual restrictions of style and interpretation more traditionally associated with The Beatles' British 60s music. 
This is most evident in their "Calangles Mash-ups", seamlessly fusing Beatles classics with other well-known pop and rock songs, riffs and motifs. The idea is to take you to a different "parallel" land during the shows, where you can be listening to the Beatles, while simultaneously listening to arrangements by other well known musicians and bands! And it all really happens. 
Originally from Fortaleza, a city in the Northeast of Brazil, Jessica Abreu (lead vocals) punches out her voice to perform with the band in an electrifying way.  This region also gave the band its name, since in Portuguese, "calango" is a type of lizard from the dry back lands in Brazil. The other musicians are from Niterói, a musical city in the state of Rio de Janeiro, a hot spot for successful Brazilian bands. 
To complete the team Daniel Bessa's on keyboard, Daniel Oliveira on bass, Marcio Bressan on rhythm guitar, Rodrigo Bessa lead guitarist and Rodrigo Machado on drums. 
 LIVERPOOL!
BE READY TO ROCK HARD WITH THE CALANGLES ROCK BAND. 
Back to lineup