Brim: Meet the Puffins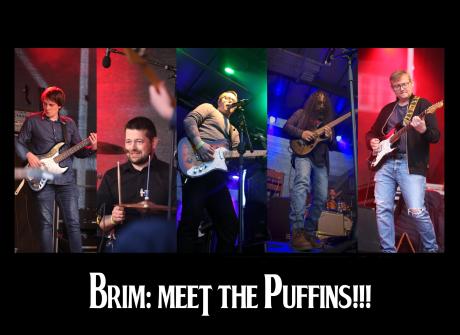 At last year's festival, The Faroese Beatles Puffin inc. performed at International Beatleweek, making them the first band in Beatleweek history to participate from the Faroe Islands. This year they're back with a slight rebrand, incorporating the band name that they are better known as in their home country as well as keeping the reference to their national bird. 
Brim, which means "breaking wave," are a rock band from Vestmanna, a small village located at the west of Streymoy, Faroe Islands. They formed in the year 2000 and have been playing together for over 20 years. They're renowned for their dedication to good old fashioned Rock 'n' Roll from the '60s and '70s.
After a well received debut in 2022 they're excited to be returning to the home of The Beatles and play in Liverpool once again. The band travelled to Liverpool last year with their group of Faroese beatlemanaics and were amazed by the experience of walking up Mathew Street, instruments in hand, and making that first journey down the stairs to the iconic basement, cellar venue. They were also thrilled at how the Beatleweek audiences took to them, with many people asking them where they were playing next and returning to see their shows throughout the week.
Back home, the band have been asked to present their Beatles show at two festivals this summer, one of which, is the most prestigious in the country. They're also getting ready to release three new original songs, which are being mastered at the legendary Abbey Road Studios!
Brim are:
Vagnur Streymoy (Faroe Islands): Lead singer and guitar.
Dávur Magnussen (Faroe Islands): Drums and vocals.
Jónsvein Á Rógvu (Faroe Islands): Guitar and vocals.
Jóan Pauli Magnussen (Faroe Islands): Bass guitar.
Sergio Martínez Muñoz (Mexico): Guitar and vocals.
Back to lineup