George! Starring Nick Bold as George Harrison (England)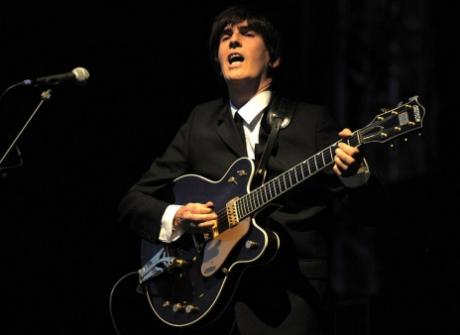 Renowned George Harrison tribute, Nick Bold is back in Liverpool to perform at this year's International Beatleweek.
Nick, who appeared as George on Stars in their Eyes in 2004 (My Sweet lord) has had years of experiences portraying the quiet Beatle all over the world. Nick has played in Beatles tribute bands (Beatlemania, The Magic of the Beatles, Beatles for Sale to name a few) as well as touring the USA with a fantastic concept show The Reunion, a "what if" concert, had The Beatles been able to reunite on-stage later in life.
Now Nick has put together a fantastic live show, focusing solely on George's songs, from his famous career with The Beatles, a solo artist and member of the supergroup, The Traveling Wilburys.
Nick performed this show in February 2019 at The Cavern Club for George Harrison's birthday and recently performed his latest version of the show last month for George's birthday. After a successful debut at International Beatleweek last year, Nick will be back to pay tribute to the Concert for Bangladesh as part of his appearance this year.
Join him and his band as they celebrate the life and music of George Harrison back in Liverpool, where it all began.
Back to lineup