Blue Beetles, The (Brazil)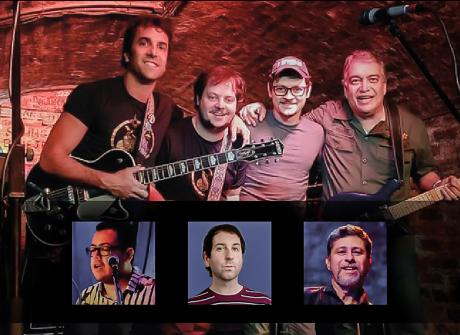 Founded in 2008, the Blue Beetles was supposed to be just a "single event group", especially formed to celebrate Marcus' birthday.  This first collaboration, however, was so well received that they decided to go ahead and form a band.
Their close friendship translates into the freshness and energy with which they play the Beatles' music, turning their performances into a real party.
The band has been proudly playing at the International Beatleweek every year since 2010 (except 2014), this time being their ninth.
Since then, the band has been focusing on specific presentations, relating mostly to Beatle B-sides and solo career repertoires. Highlights of the last few years include "Please Please Me" and "A Hard Day's Night" full album concerts, as well as Paul and Linda's renowned album RAM and a fully dedicated concert to Ringo Starr's solo career.
For this year, the band is going to present their already acclaimed Harrison and McCartney tributes, bringing up "harrisongs" such as "Blow Away", "That's the Way It Goes" and "Wah Wah", and, regarding the Macca tunes, a 'best of' the "Wings Over America" concert.
Their other presentations will comprise a Lennon tribute act, as well as a "rock 'n' roll" show, figuring some of the Beatles' early hits.
The BlueBeetles are very proud to play for the 9th time in Liverpool at International Beatleweek.  The BlueBeetles are:
The BlueBeetles is composed by :
Danilo Fiani (Gretsch® Endorsed lead guitar and vocals)
Mario Vitor (Hofner bass, keyboard and vocals)
Felipe Coe (Drums and vocals)
Marcus Romariz (Rickenbacker rhythm guitar, Hofner bass and vocals)
Alan James (Drums, bass, keyboards and vocals)
Claudio Vargas (tech consultor, bass, keyboards, 'roadie', cameraman and all the help we can get!).
By the way, the band is proud to present its brand new member, Alan James. Being a multi instrumentalist, Alan plays the keyboards, drums, bass and also the guitar, adding up many new possibilities for the band's sound.
Unfortunately, due to personal circumstances, Mario Vitor won't be able to participate in this year's edition. In his place, the BlueBeetles are very proud to count on the well known "Beatleweek Legend" (in his own lunchtime!) Joe Kane, ex-Them Beatles member, and established Paul McCartney tribute artist.
In May 2017, they played  at 'Abbey Road on the River' festival in the USA for the first time, a huge success. In Brazil, the band also backed the likes of Jimmy and Tony Coburn, Ringer Starr and Jay Goeppner.
The band is bringing – as usual!!! – all the energy beatleweekers are accustomed to seeing, and they are really looking forward to coming back where they started out…Liverpool!
Their motto, as always, is, 'A Beatle way of living!'
Back to bands