Blackjacks, The (England)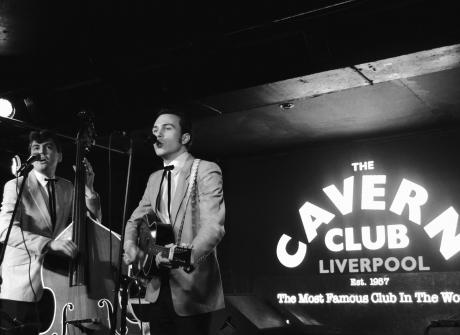 The Blackjacks began as an acoustic skiffle duo, taking their name from John Lennon's first ever choice of band name. 
The Blackjacks revisit the sound and style of the 1950s British Teddy Boy scene, and since playing the festival for the first time in 2018, the duo are now complete with drums and lead guitar and will be appearing in both forms this year! They perform skiffle, rock 'n' roll and early country tracks to create a true, authentic 50's set. The boys also play a number of Beatles tracks, giving each one a skiffle makeover to sound in keeping with those early influences that John Lennon had in mind when first performing with The Quarrymen. 
In their recent reimagining of 'One After 909', the lads considered how Lennon and McCartney would have first pictured the track when they wrote it. Their interpretation of the track is out now out on 7" vinyl and digital download through VeeTone Records. 
The Blackjacks will bring a smile to your face and get your feet a-tapping, so look out for these northern skifflers throughout the week, and dig their raucous rhythm, luscious harmonies and undeniable charm!! 
Back to lineup