Black Country Beatles, The (England)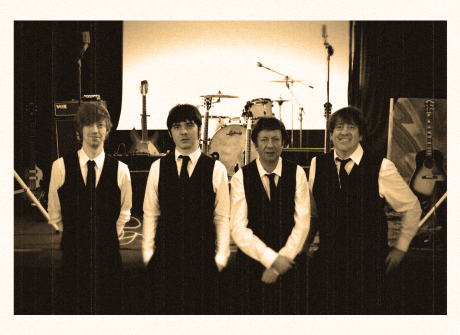 The Black Country Beatles are a tribute band based in, you've guessed it, the Black Country in the West Midlands. The lads have been going since 2016 when the group was started by Andy Harper, who plays the role of George Harrison.
The John Lennon of the band, Gary Bales, first came to our attention when he appeared on the TV show, "The Big Audition" in 2018 and last year became a regular viewer of The Cavern's streaming gigs. Over the course of the 7 months, he became a virtual friend and it wasn't long after reopening that Gary made his way to Liverpool to meet us in person and we put two and two together and realised he was in a tribute to the fab four.
Thomas Harper (Ringo Starr) and Joe Dawes (Paul McCartney) make up the line-up and together they play a whole variety of your favourite Beatles songs and are very passionate when it comes to what they do. They aim to provide a realistic and enjoyable experience and incorporate an authentic touch to songs with the use of classic Beatles instruments including harmonica and keys to capture the sounds of the originals. This will be the first time performing at the festival and they're very excited about finally getting under those famous arches!
The band made their debut last year and will be back for more this year. Yeah! Yeah! Yeah!

Back to lineup