Bertils, The (Sweden)
The Bertils are back again for their eighth consecutive year; with the original cast, a mere excitement for the band, hopefully conveyed to the audience when guitars are plugged in and electrified.
Since last year, apart from local gigs, the band has been confirmed to play at "The Beatles on the Beach", in Delray, Florida (March 2020), and at "Beatles Day" in Bangkok! This is an honor indeed, and at the time of writing this, the hunt for sponsors is ongoing at peak effort.
When Pepperland or Rocks Off are in sight, the band takes a step "back" and serves music by The Beach Boys, Swinging Blue Jeans, The Who, Badfinger and loads of other important sixties bands. But, when appropriate, The Bertils will play Beatles from their cover band days to "The End". And, if you like, let Douglas play two guitars at the same time of "And Your Bird Can Sing" ("Impossible", said another lead guitarist of a famous BW band). Or they may do a full Rolling Stones set (Jimmie used to be the lead vocalist of a Rolling Stones cover band in the south of Sweden), but this will not happen at BW, to be sure…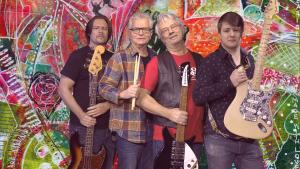 The Bertils are: Olle Strååt: (Drums), Jimmie Rudolfsson (Rickenbass, Douglas Källstedt-Georgsson (Lead Guitar), Kent Adeborn (Rhythm Guitar/Band leader). All of them have microphones.
Back to bands