Beatles Again (Brazil)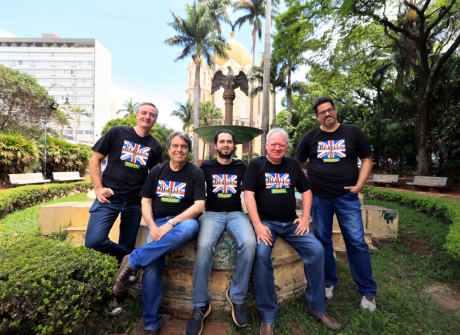 Beatles Again are a five-piece Beatles tribute band from São Paulo, Brazil. 2023 will mark 30 years since the band first started in 1993 and they couldn't imagine a better way to celebrate and culminate three decades together than travelling to Liverpool to be part of International Beatleweek.
Over the years they have been a frequent presence at Beatles festivals in Brazil, including BH Beatle Week in Belo Horizonte, organised by Aggeu Marques as well as Beatle Week Brasil, in Niterói (Rio de Janeiro) organised by Jessica and Rodrigo from The Calangles.
Beatles Again stand out for their faithful performances of Beatles songs as well as songs from their solo careers, attracting large audiences to their shows.
For this year's festival, the band promises gigs with a lot of energy, covering all eras as well as dedicated sets to those solo years, with a special focus on the career of Sir Paul McCartney.
Current members are:
Beto Neves (Keyboards, Electric and Acoustic Guitar, Harmonia, Ukulele, Vocals).
Daniel Mattos (Bass and Vocals).
Rogério "Piu" Pinotti (Lead Guitar, Acoustic Guitar and Vocals).
Fernando "Chin" Neves (Drums and Percussion).
Beto Placco (Percussion and Vocals).
Back to lineup