Goudeseune, Antoine (Belgium)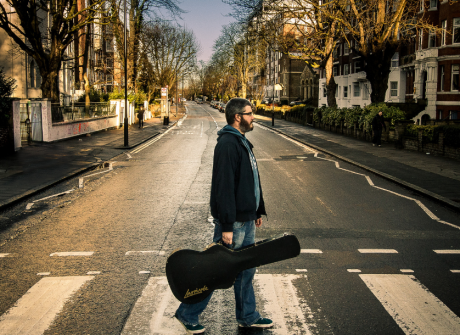 Antoine Goudeseune, from Belgium, is a one-man band, acoustic finger-style tribute to The Beatles.
Antoine plays and teaches classical guitar but also has a passion for rock music which has led him to fuse the two styles to create his detailed, solo acoustic arrangements of Beatles songs.
So far he has recorded three tribute albums including two full album recreations, of Abbey Road and Let It Be.
In 2014, he went to the legendary Abbey Road Studios, where The Beatles recorded most of their songs, to record his version of the Abbey Road album in Studio 2.
From the crosswalk picture, to the studio and microphones used, everything on that record tried to capture the vibe of the place, and pay the most authentic and honest tribute to the music. You can hear his version of Something here:
In 2020, he recorded the whole Let It Be record, for the album's 50th birthday and was schedule to play at International Beatleweek that same year. Unfortunately, we've had to wait a couple of years to finally be able to welcome Antoine to Liverpool but we're excited to have him at this year's festival to add a classic flavour to our favourite music and we think you'll be impressed too.
Back to lineup