Naumenko, Anna (Germany)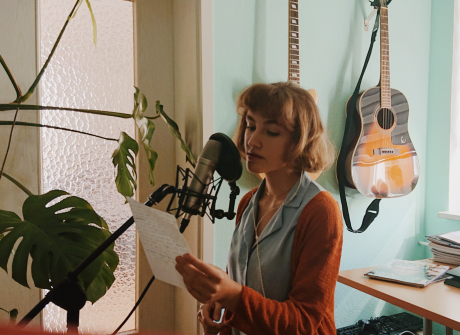 From the first time she properly picked up a guitar at nine years old to attending classical guitar and singing lessons for several years and exploring her own music, Anna is even now, a decade later, hardly ever seen without a guitar or Beatles-related enthusiasm in her eyes.
Originally from Germany, the 19-year-old started studying English literature, language and culture at university in 2022 but has been connected to everything English long before her studies due to The Beatles. Her life-long love for The Beatles not only led her to delve deeper into a variety of musical genres but also increased her interest in songwriting, recording and music production from an early age.
Over the past few years, she has written about 50 songs, some of which she has recorded at home with music equipment collected over the years, and shared them online on digital music platforms. She has also been involved in several other music projects, spanning from singing in choirs to being a member in various bands to being in regular contact with the Beatles-Museum Halle to simply recording music with kindred spirits.
In 2022, she expanded her love for music by becoming a member of the blog Indie Music Center, where she now regularly writes and publishes music reviews.
However, she has never missed an opportunity to spread her passion for The Beatles' music. Either at gatherings with friends, music exams, singing with fellow Beatlemaniacs at numerous concerts, performances at school events or on demo cover recordings, everyone who knows her inevitably also gets to know The Beatles.
This year marks her debut as an International Beatleweek artist, playing songs that range from thoughtful acoustic tunes to ones that set your feet tapping, either written by The Beatles themselves or artists who influenced them.