Absolute Bowie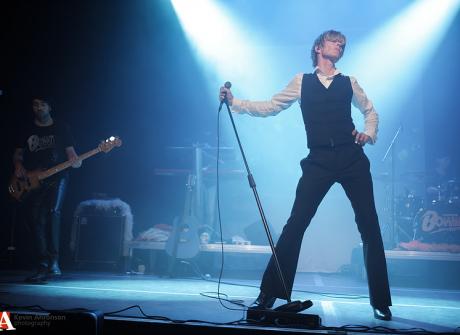 There are of course many tributes out there to the legendary David Bowie, but for "Liver Aid" we bring you the finest tribute to the "thin white duke" in Europe.
Winners of the 'Best Bowie Tribute' and 'Best Band' in the UK at the Agents Association of Great Britain Awards in July 2018, this five-piece band has toured all over Europe for the last 11 years, faithfully performing the music of David Bowie with uncanny accuracy.
David Bowie played an integral part in the original Live Aid concert, famously producing a  video with Mick Jagger of their performance of "Dancing in the Street". The original idea was to do a live version of the song on the day with Bowie in London and Jagger in Philadelphia. Unfortunately, the time delay rendered this impossible, hence the now famous video. David played a blistering set in 1985, playing a total of four songs. His set came right after Queen had just had the entire stadium singing to "We Will Rock You"/"We Are the Champions". When David Bowie played "Heroes" during his set, approximately two billion people world-wide were singing along!
Back to bands