3 Of Us, The (Paraguay)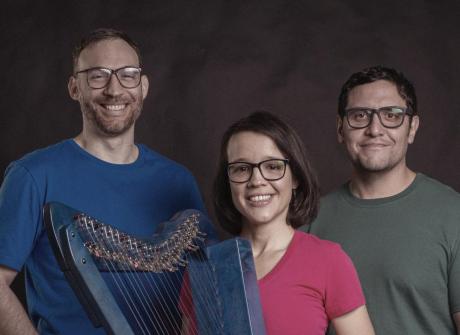 3 Of Us are a trio that comes to propose a different way of enjoying Beatles songs live. The band concept is based on the choice of an unusual repertoire and on a sound characterised by vocal harmonies and instruments such as the Celtic harp, the guitar, the ukulele, the kazoo, the melodica, among others.
3 Of Us also manifests their identity from that honest, original and intimate interpretation typical of a small acoustic concert, or a spontaneous meeting between friends who share their passion for the Beatles.
Band members are: Olivia Berendsohn (Celtic harp and lead vocals), Juan S. Vinader (Ukulele, rhythm guitar, and vocals) and Diego Bellenzier (Lead Guitar and vocals), all musicians with extensive experience in the Paraguayan cover band scene.
3 Of Us had its beginnings in 2019, within the Paraguayan Beatle Community, when with the purpose of celebrating Paul McCartney's birthday, Olivia, Diego and Juan met and decided to rehearse and present a small acoustic show in such event.
Due to the very good reception from the public, the band continued rehearsing and performing in cafes, bars and hotels in Asunción, as well as at business events, weddings and Beatle fans' birthdays.
In 2020 they were invited to participate in the first Beatle Week Asunción, and in 2022, in a concert remembering Paul McCartney's concert, in 2012. The latter, held at the Municipal Theater of Asunción.
In the same year, they are invited to the Beatle Week Brazil 2022, where they perform on various stages throughout the city of Niteroi, sharing with artists from Brazil, Argentina and England, and with a very good acceptance of the Carioca public.
Back to lineup